Content marketing is not only a way of differentiating yourself from your competitors, but in an ever-changing digital environment, it is an essential part of a modern brand building. Every success and fame is the result of a good direction. Behind the scene of an excellent content marketing, there is a wealth of valuable and relevant content that adapts to the target audience. Wondering why this is so?
1. Building trust towards your brand
Unique content creation is a great way to engage potential customers and keep their attention. Interesting and relevant content can help you to build trust with your brand, while developing an opinion of it.
Do your customers perceive the content of your articles and blogs as engaging and rewarding? Then they will most likely think about your business as well. The more value the content provides, the easier it will be to reach your target audience. In addition, if they notice this content on multiple platforms, they will perceive you as a leader in the industry.
2. The impact of content on your websites' conversions
Quality content can make a significant contribution to increasing your websites' conversion rate. In addition to building the audience relationships and brand trust, you provide your customers with information that makes their purchasing decisions easier. To ensure your content is optimized for conversions, there should never be missing a clear call to action (CTA). Whether it's about buying products, getting more information, or contacting a sales team, you are telling your reader what to do through content.
3. Optimized content will support your SEO
Search engine optimization is a collection of techniques that help improve your websites' traffic from organic (non-paid) search engine results. Therefore, if you want to improve your websites' SEO, you should focus on the optimized content creation.
Publishing blogs on topics that are relevant to your target audience gives you greater chance of applying the keywords that a particular user group is searching for in the search engines. The more content you have on your site, the more motivated the reader will be to visit your site. In addition, if you engage your existing and potential clients with the relevant content, they will spend more time on your site. And it is exactly the amount of time spent on a site that search engines rank as one of the indicators confirming a valuable content.
4. A cost-effective way to win new customers
Content marketing is a great opportunity to attract new customers. In addition, it may attract up to three times more potential clients compared to traditional marketing tools. It is therefore an appropriate choice for large and established businesses and at the same time, a necessity for startups and small businesses that want to maximize their budget.
However, you should also keep in mind the time-consuming character of the content marketing and the fact that the results of your efforts will be visible after some time. Do not create any content only because of its creation. To maximize the return on your content investments, you need to develop a long-term strategy that reflects your audience preferences.
5. Demonstrate your expertise through a quality content
Consumers want to be sure that they are dealing with real professionals. That's why creating a content is an important part of your marketing activities that influences the buying behavior. With each blog you publish, you prove your customers' knowledge of the issue, and when the client decides to make a purchase, he remembers the brand that provided him with the information he needed to better understand his problems and the solutions offered.
6. Build customer relationships
Marketing costs are usually highest while winning a new customer. If a loyal client returns to you repeatedly, these costs will be lower. That's why regular customers are the alpha and omega of many successful businesses.
As many as 61% of SMEs claim that half of their income comes from regular customers. Therefore if re-selling is a significant part of your company's revenue, you'll need to find ways to strengthen your relationships with existing customers. Brand loyalty and customer relationships building can be enhanced by providing relevant and quality content.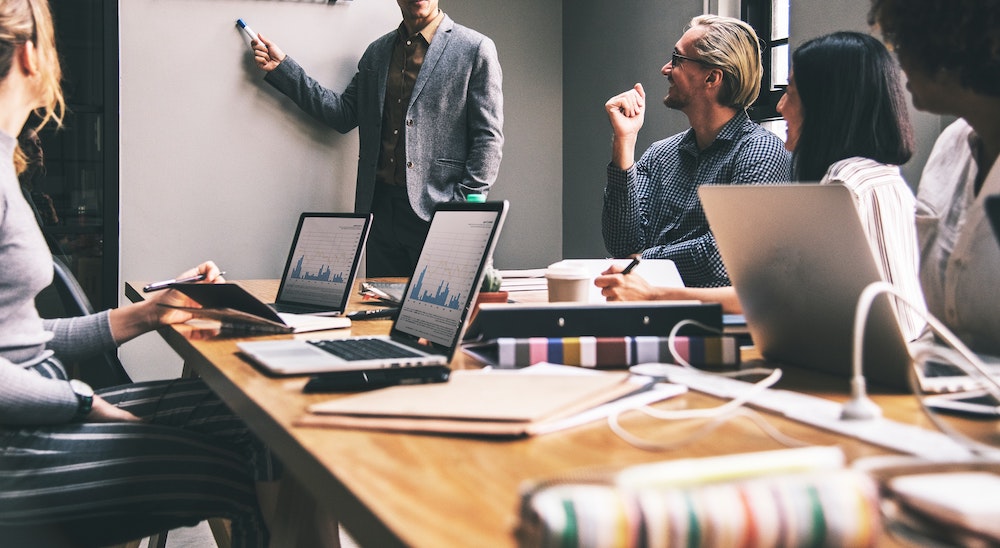 7. Stand out from your competition
To make your content marketing effective, work with the feedback you get from your audience. User feedback and ratings, site-traffic metrics, and customer personality are some of the guidelines you should follow when planning your content. Be sure to showcase your brand as a "personality" that is different that your competitors. In a complicated and ever-changing digital market, it is really important if you want to compete with your products and services in the long term. Content marketing is an effective way for small businesses to differentiate themselves from other players in the industry and to show what makes their company exceptional.
8. Support of other digital marketing channels as well
Most businesses use multiple digital marketing tools: from email marketing, through social networks, to PPC advertising. But they all have one thing in common. It is an interesting and relevant content. This integrates the content marketing into other areas of your online marketing strategy.
We believe that we've managed to explain the importance of content marketing for businesses of all sizes. In addition to helping you in becoming more visible and to building relationships with your customers, a customized content also differentiates you from your competition. Discover the benefits of a quality content "on your own" and develop a strategy to drive conversions and reach customers. We will be happy to help you in your brand building and in taking care of your communication (not only) in the digital world of information.